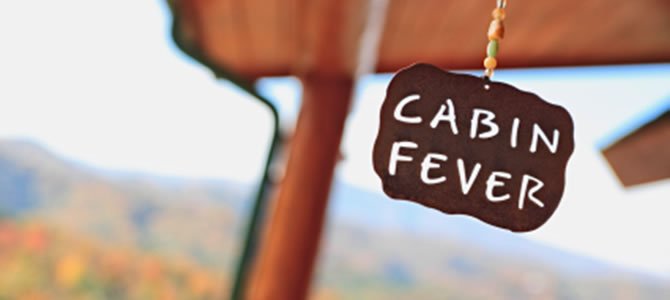 Looking for cheap cabins in Gatlinburg, TN?  Want to take a relaxing Great Smoky Mountains vacation on a shoestring budget?
If so, you're in luck!  With an abundance of vacation rentals available in Gatlinburg, Tennessee and the surrounding area, finding an incredible deal is entirely do-able.
Here are 7 quick tips for scoring cheap cabins in Gatlinburg, TN…
Tip #1:  Plan Your Gatlinburg Trip For Low Season.
The Gatlinburg and Pigeon Forge area tends to get really busy during summer months (family vacations when the kids are off school), during the autumn peak foliage season (due to the unique Smokies climate, the stunning fall foliage lasts much longer here than most places in the U.S.), and of course, it's also a very popular travel destination during the holidays and holiday weekends throughout the year.  Busy means peak demand for cabin rentals—and we all know this equates to higher prices.  So…if you're looking for cheap cabins in Gatlinburg, be sure to give slower times of the year a try.  September is great before the October rush hits.  Same goes for March and April.  Bonus:  not only will you save a bundle by visiting off-peak, but the area will be much more peaceful and relaxing too.
Tip #2: Get Off The Beaten Path To Find Cheap Cabins In Gatlinburg, TN.
The closer you are to town and its conveniences, the better the chances are that you'll end up paying for that convenience in your cabin rental fees.  If you're willing to drive 15 minutes into town, it's easier to find cabin rentals that are less expensive—Gatlinburg is a popular location for conventions and reunions, and these groups who tend to keep the lodging arrangements booked up tend to prefer being close-in to town.  Further out equals lesser demand.  Bonus:  Again, it's more peaceful and relaxing to be in the serenity of the mountains.
Tip #3: Rent Directly From The Cabin's Owner.
Cabin rental agencies are convenient—as they'll do much of the leg work for you in finding the perfect vacation rental and ensuring your satisfaction is met during the process.  That said, agencies also need to make a profit—and usually do so by adding a markup to the cabin rental cost for being the middle man.  For those willing to work directly with cabin owners, getting a fantastic deal on your cabin stay is much more likely.  You'll find many for rent by owner Cheap Cabins in Gatlinburg, TN right here on the website.  One quick piece of advice here:  Be sure to check out the reviews and references of the specific vacation property you're thinking about renting first, just to be on the safe side.
Tip #4:  Look For Unusual Scheduling Windows
Is your schedule flexible? Another great way to find a cheap cabin deal in Gatlinburg is to look at a property's availability calendar and try to spot window of availability that might not be so desirable for others.  For example, if a property is booked for 5 days, ending with a Wednesday departure, and then again from Saturday on, that window of availability of Wednesday, Thursday, and Friday nights is unusual for many folks who say weekend to weekend and travel to and from the area on the weekend.  Thus, it's very possible that the cabin's owner or manager will have difficult time booking this interim time period.  That makes for a perfect opportunity to ask for a fantastic deal.
Tip #5:  Ask For The Special Or Deal.
When it comes to finding cheap cabins in Gatlinburg, TN, it's good to know that almost all cabin rental companies in the Smokies run constant deals, specials and promotions.  The same goes for individual owners who rent out their Gatlinburg cabins directly.  These deals are often along the lines of "rent 5 nights and get the 6th night free" or something similar.  The thing is, they might not always offer the deal unless you ask for it.  Be sure to ask about the specials—cheap cabins in Gatlinburg TN are often yours just for the asking.
Tip #6:  Rent A New Cabin.
Sounds like a crazy way to save money, but oddly enough, it's very possible.  Sometimes some of the newest cabins have a disadvantage in the cabin rental market because they don't have repeat visitors yet.  Or sometimes, it could just be that the owners need to get a few good reviews from visitors to the cabin.  Whatever the case may be, just because the cabin is newer does not mean that it will be more expensive for your vacation budget.  In fact, the odds are the good that the very opposite will be true.  Shocking, isn't it?
Tip #7:  Book The Same Place Every Year.
Cabin owners love repeat business.  It makes it easy on them when their cabins automatically book themselves—and they're generally willing to make you a pretty good deal for the fact that they'll have a guaranteed booking and will save some of the marketing effort it takes to keep the property all booked up into the next year.  It's a win-win for all involved!
These 7 tips for scoring cheap cabins in Gatlinburg, TN might not be all that unique—but the bottom line is remarkably simple…they really do work!