Before you get in your car and head for Smoky Mountains of Gatlinburg, you have to make sure that you've got somewhere to stay in the popular Tennessee city.  And rather than book some hotel rooms for a couple of nights, why don't you try something new?  Go for the many rental cabins around the Gatlinburg and Pigeon Forge area.  These rental cabins allow you to be closer to the real scenery the Great Smoky Mountains have to offer—serenity and nature.
Most Gatlinburg, Tennessee cabins are also designed to be fully equipped with the amenities you'll find in your own home (sometimes more)—guaranteeing maximum comfort on your vacation.  But despite the fact that these cabins come with amenities such as full kitchens, living areas, and dining areas, there are still some things you'll need to bring with you to make your stay more comfortable.
We've compiled a short list of things you should bring along for when staying in Gatlinburg, Tennessee Cabins:
1. Food & Groceries
While some rental cabin resorts are found within minutes of downtown Gatlinburg, some rental cabins are located off the beaten path.  And unless you plan strategically to do some grocery shopping for your vacation, you'll likely find having to make a special trip to the store to be an annoying inconvenience.  No matter where your rental cabin is located, it pays to be ready.
Bringing your own food ensures that your family never goes hungry and enjoys the vacation more.  This is also helpful for families with children or picky eaters.  And cooking your own meals can help you cut back on your vacation expenses, leaving you with more cash to use for exploring Gatlinburg.  Don't bother with bringing cookware; most Gatlinburg, Tennessee cabins come stocked with pots and pans (it's always a good idea to call ahead & check on the specifics first).
2. Toiletries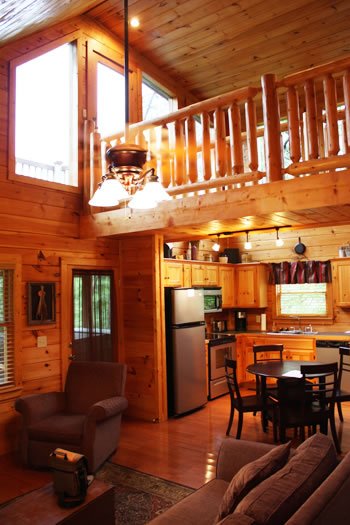 Rental cabins generally have full bathrooms, and sometimes provide a few starter supplies, but you'll have to bring your own toiletries.  Toiletries you shouldn't forget to pack include shampoo, conditioner, soap, toothpaste, and toothbrushes, as well as any other liquids or creams family members may use, such as shaving cream, and body lotion.  Remembering to bring your own toiletries saves you from the trouble and added expense of having to go into town to buy things you could've brought yourself.
3. Laundry Detergent
You can find a lot of Gatlinburg rental cabins that offer washers and dryers.  If you want to pack light but are planning to stay in Gatlinburg for a while, then you might want to go for washing machine-equipped rental cabins.  But you have to remember to bring your own laundry detergent.  Rental cabins don't usually offer detergents and fabric softeners to their guests, so you might want to pack a travel-sized supply of detergent some dryer sheets in your suitcase.
4. Extra Towels & Blankets
Most Gatlinburg Tennessee cabins come equipped with hot tubs and Jacuzzis.  Of course, you can count on having an appropriate supply of bath linens provided—but for the hot tub, it's best to bring along some extra beach towels for your family to use.  Extra blankets are also useful in making sure that your stay in Gatlinburg vacation rentals is as comfortable as possible.  Again, most cabin owners have thought of pretty much everything when it comes to making sure their guests are fully supplied and pampered—but sometimes it's better to be safe than sorry.
5. Kindling, Starter logs, Charcoal, Lighter Fluid
If you want to fully enjoy everything Gatlinburg, Tennessee cabins have to offer, then there are four things you shouldn't forget to bring on your trip: kindling, starter logs, charcoal, and lighter fluid.  To give the cabins a more rustic feel, most rental cabin resorts equip the cabins with fireplaces (many are gas though—so again, check first).  And without kindling or starter logs, you wouldn't be able to enjoy the warmth of a roaring fire in the fireplace.
Charcoal and lighter fluids, on the other hand, are useful for cabins that come with charcoal grills.  Naturally, this is all stuff that you can pick up at practically any convenience store or grocery store in the area—but if you have the extra room and patience to pack it and bring it yourself, you'll save the hassle of having to run into town and the marked up costs usually associated with the convenience.
The Bottom Line?
Vacation in the Smokies should be all about relaxing—not running errands and going to the store several times.  It's always a good idea to plan what to bring when staying in Gatlinburg, Tennessee cabins ahead of time…you'll be glad you did!