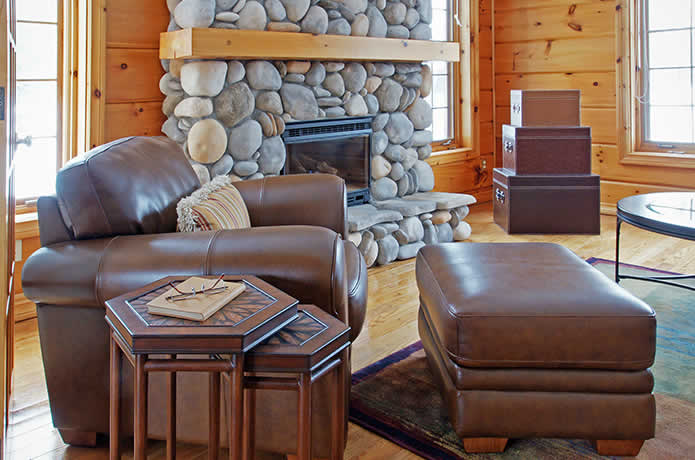 Looking for the best Gatlinburg vacation rentals?  Well, fortunately, that's one of the best things about Gatlinburg, TN and the Smoky Mountain area in general…there is an incredible selection when it comes to lodging choices.  Everything from privately owned and managed Gatlinburg vacation rentals, to company and agency managed vacation rentals, to condos, hotels, cabins, chalets, motels, camping, timeshares, and well, the list just goes on and on.
Main Types Of Gatlinburg Vacation Rentals
For now, let's focus on the two main types of Gatlinburg vacation rentals you'll come across when choosing accommodations for your Tennessee trip.
Privately Owned Vacation Rentals
When it comes to private owner lodging in Gatlinburg and the Smokies, you'll certainly find an abundance of properties to choose from…most of them being cabins or condos.
When you visit popular vacation rental websites like VRBO, Homeaway, or Airbnb, this is typically where you'll find the opportunity to rent a vacation property for your Gatlinburg, TN stay from a private owner.  Most savvy vacation property owners use these popular sites to promote and market their vacation homes, as well as to connect with potential renters, and sometimes even to facilitate the entire booking from selection of dates to payment for the rental.
Again a few of the more popular vacation rental sites by owner include:
What should you look for in a privately owned vacation rental?
1.  First and foremost, make sure the property looks like it is up to par with your expectations.  You'll usually find a nice selection of photos that you can take a look at online to make sure the vacation rental at least matches your style and tastes.
2. Read the descriptions and be sure everything looks and sounds like your kind of vacation stay.  Keep in mind that these are peoples' privately owned homes and properties that they are making available for your use — many things are going to be "self-serve" when it comes to staying in a vacation rental, especially when compared to a full service hotel.  The owners are usually pretty good about spelling out exactly what will be provided and what you will need to bring along for your stay.
3.  Understand booking information.  Be sure to understand the rate structure, the deposit policy, and other associated fees with the listing (like cleaning fees, etc.).  These can be quite a bit different than a normal hotel or motel stay.  Be sure to speak directly to the private owner to make sure you're both on the same page with everything.  The most experience property owners go through this process dozens and dozens of times a year, so they'll have the entire rental process completely streamlined for you — from the initial contract to checkout — and will share all of this with you right up front.
4.  Check out the pets policy.  For those seeking pet-friendly Gatlinburg vacation rentals, be sure to understand the owner's policy on pets.  Many rental cabins permit small pets, usually dogs, but others have more restrictive policies, or simply don't allow pets at all for one reason or another.  Again, it best to check with the owner first before planning your trip.
5.  Last but not least, be sure to check the reviews!  On all of the major by-owner vacation rental sites, you'll see a place where past visitors to a particular vacation property can share their reviews.  Read every review and you'll definitely get a better understanding of how other people have enjoyed the property and how the owner responds when and if any minor issues have come up.  Things happen, and it is in the reviews that you'll be able to tell the good properties from the ones you'll want to shy away from.  Personally, as a matter of policy, when my family rents a Gatlinburg vacation rental for a stay in the Smoky Mountains, we only add potential vacation rentals to our list that have many, many excellent reviews on the rental site (and also only those with plenty of up to date reviews — things do change quickly, and if a vacation property is not maintained, it can certainly go downhill very quickly…be sure to check for recent reviews and not just those that are perhaps a couple of years old).
Vacation Rentals by Agency or Property Management Company
So just as there are tons of vacation rentals in Gatlinburg that are available for rent for a few days, or by the week or month, directly from the property's owner, there is also a huge abundance of vacation property rentals that are made available to visitors from rental companies.  Many times in the Gatlinburg area, you'll find that these popular lodging options such a great alternative to a standard old motel or hotel accommodation.
Here's what to expect when renting from an agency or a property management company…
1.  A Great Selection.  You'll probably find that there are a couple of different types of Gatlinburg vacation rental property agencies out there — those that have all of their properties in one area or resort area and deal with that neighborhood exclusively…or those that manage a variety of properties that are spread around the Smoky Mountain region, usually somewhere between Pigeon Forge and Gatlinburg.  Some of these  agencies that represent a wider spectrum of properties actually own the properties they're renting to vacationers, while others just manage them for the owners.
2.  Reliability and Service that is available from a full service travel company.  Some are better than others, but usually there is some peace of mind that comes with renting from a company vs. an individual.  If something goes wrong, there is usually a little bit more recourse–the agency can probably put you in an alternate comparable vacation rental, or take care of the issue right then and there as a part of the management service they provide.
3.  It's easier to make last minute arrangements than with a privately owned vacation rental.  Most of the agencies and property management companies in the area have offices that you can visit on your Gatlinburg trip or even just when you're passing through the area.  You can stop in and literally book a vacation property for the same night.  They'll usually have something nice available.  Not to say that renting from a private owner makes this impossible–but there is usually a little bit more correspondence that can take time for the needed back and forth when booking a vacation rental from a private property owner.  Same day service is much more likely from a management company.
4.  Reviews are likely a little bit less transparent.  The major trust factor when renting from an individual is the fact that you can read unbiased and unedited reviews for a given property on most of the vacation property rental websites.  Agencies and rental companies usually share some kind of reviews and testimonials from satisfied visitors, but you're most likely only going to be shown the best reviews in this case.  Not really a problem, but just something to be aware of.
In the end, you'll definitely enjoy spending your stay in Gatlinburg Vacation Rentals vs. Gatlinburg hotels if that's your kind of thing.  You'll have access to a more privacy, the luxuries that a Gatlinburg cabin can provide, and all in all, an excellent Smoky Mountains vacation, no matter which type of lodging you choose!