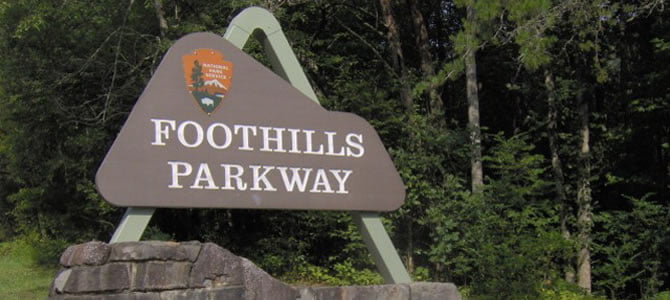 Foothills Parkway is a project that has been in the works since 1944. It was promised to Tennessee as consolation for the Blue Ridge Parkway being located out of state. Originally, a 72-mile scenic corridor was planned that would hug the northern border of the Smoky Mountains. Unfortunately, engineering, political, and funding problems have plagued this project for over four decades.
Construction of Foothills Parkway began in the 1960s. The longest completed segment is a 17-mile stretch that winds its way from US Highway 129 in Chilhowee to US 321 in Walland. This route is open to the public and makes for an idyllic Sunday drive surrounded by beautiful foliage and impressive mountain landscapes.
At the point where the first completed section of Foothills Parkway meets US 321, there lies a stretch of road that has been dubbed the "missing link." Here, construction began but was never completed due to steep and unstable terrain. Several miles of this incomplete road are open to pedestrian traffic making for a lovely wooded path along which to hike, bike, or horseback ride. Plans exist to complete of the missing link, however, it is an expensive proposition which faces political opposition from both fiscal conservatives and environmentalists alike. Still, work progresses–if at a snails pace.
Unable to parse entered address. API response code: REQUEST_DENIED
Also completed is a 6-mile section of the Parkway that lies in Cosby, Tennessee. It connects to Interstate 40 and was to be Foothills' northeastern terminus. Construction began here at the same time as at the southeastern end, with the goal having been for the two sections to meet in the middle, somewhere along what is now the missing link.
Lastly, there is a four lane scenic highway referred to as the "Spur" which is technically part of Foothills Parkway. It encompasses a stretch of US 321/441 and serves as the only direct route between Gatlinburg and Pigeon Forge. The Spur runs along the West Fork Pigeon River and ties into the Gatlinburg Bypass, making it as practical as it is beautiful.
Photo: Brian Stansberry / Creative Commons