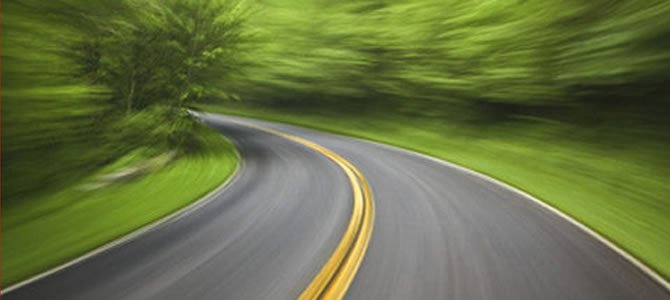 Each year, millions of tourists flock to the Smoky Mountains for Sevierville, Pigeon Forge, and Gatlinburg vacations.  Needless to say, the roads can get kind of clogged for people making that drive—unless, of course, you've made some plans before leaving for your Smokies vacation.
Here are just a few tips for those who might be coming into town about which ways might be best to enjoy the Smoky Mountains magic while avoiding the traffic hassles…
Interstate 40 (Exit 407)
Obviously, the pathway that many take to their Smokies and Gatlinburg vacations involves Interstate 40 and exit 407.  After all, I-40 is one of three interstate systems in the eastern region of the state, and is the most logical way to get to there.  Whether coming from the east or the west, you will no doubt encounter some of the most beautiful surroundings you have ever seen.
I-40 (Driving From The West Through Knoxville, TN)
From the west, you will come through Knoxville, which depending on the time of day, can be a major headache.  Avoiding the rush driving times can help a traveler greatly while making the trip to their Gatlinburg vacations.  Thankfully, the construction that has been taking place on I-40 through the town of the Volunteers has ended, making the run a lot more enjoyable and less time consuming.  I have seen traffic begin as soon as you depart the interstate at exit 407 though, so please be advised.
I-40 / I-81 (Traveling From The East)
If you are coming from the eastern side of I-40, you're in better luck as far as traffic goes.  You definitely won't mind the view, either.  With towns like Bulls Gap and Morristown adorning the path, you will drive through some absolutely gorgeous Smoky Mountains scenery.
Highway 441
From the south, there is Highway 441 that has you coming in from North Carolina, and Great Smoky Mountains National Park.  When it comes to scenery, you can't beat this pathway into Sevier County.  Of course, traffic through the National Park is a consideration, and obviously, you can't drive as fast as you can through some of the other ways of getting there.
Insiders' Tips On Beating Traffic To And From Your Smoky Mountain Vacations
OK, so…you're going to encounter non-stop traffic no matter how you go, right?  Well, if you go at certain times of the year, that's probably a given.  With that said, let me offer you two alternate route suggestions that might cause you a little less headache:
Alternate Route #1:  Take Highway 441 South From Knoxville
If you have to go through Knoxville, you might want to consider getting off the interstate on Highway 441 in downtown. Instead of going straight through Knoxville to the famous exit 407, you'll go through the town of Seymour, en route to Sevierville, TN.  Once you get to Sevierville though, you're on your own.
Alternate Route #2:  Take Highway 321
The other (sort of) secret route involves you coming in from the west, and departing I-40 before you get to Knoxville.  At exit 364, you will see Highway 321 that takes you through Lenoir City, Maryville, and south to Townsend before you make a cut back to the north to Pigeon Forge, where you wind up in the middle of town.  Mileage-wise, it's not wise, but in my travels there, I can't remember ever coming to a complete stop, and the drive is absolutely breathtaking.
A Few Additional Insiders' Travel Tips…
There are a few further tips for travelers driving to the Gatlinburg / Pigeon Forge area that might make your stay more pleasant.  If you are coming in for a mountain run, you might want to make it during the week.  Weekend traffic is crazy.
If you can't avoid going on a weekend during the fall…check out the Tennessee Volunteers Football Schedule.  Many fans that go cheer on the SEC powerhouse usually devote the second day of their weekend to the mountains.  Even if they don't, avoid traveling through Knoxville on game day…you'll drive yourself crazy!
Getting Around The Way The Locals Do
Simply getting to your destination isn't enough.  You have to navigate your way to the town of your choice.  This sounds easy, but keep in mind, there are lots of people in the area just like you enjoying Sevierville, Pigeon Forge, and Gatlinburg vacations.  So, let's start with Sevierville, and work our way up Highway 441.
Sevierville, TN
Exiting off of Interstate 40 onto Highway 66, you will be amazed at how many entertainment and shopping options there are—miles away from what is known as "The Parkway."  As far as Sevierville goes, traffic is what it is.  You might be able to find a shortcut or two, but it's not going to be that easy. One possible alternative would be to leave The Parkway, go east on 411 through Sevierville, and finally take Veterans Rd / Middle Creek Rd / Teaster Ln south to where it rejoins The Parkway below Pigeon Forge.
Due to the basic layout of the town, there are not a lot of updates that can be made.  Still, you have to give credit to city officials for re-working the intersection of Highways 66 and 441 a few years ago, allowing visitors the option of bypassing one of the city's busiest routes.  You're still going to have a good amount of volume, but that little step makes it somewhat easier.
Pigeon Forge, TN
Then, you're at Pigeon Forge.  If you have ever been there on a weekend in the fall, the massive amount of traffic will surely intimidate you if you've never been there before.  Do not abandon hope, as there are a few tricks to getting around town, or bypassing it altogether.
Once you get into Pigeon Forge, you will arrive upon one of the busiest intersections of the area, that of Wears Valley Road (the afore-mentioned Highway 321) and Highway 441, referred to sometimes as "The Parkway."  If you are coming from Sevierville, and you want to move on to Gatlinburg, or a little farther down the road in Pigeon Forge, take a left by the Timbers Log Motel.  Keep straight, and you will come upon a stop light adjacent to the Belz Outlet Mall.  Turn right, and you will be on one of the best treasures of Pigeon Forge—a road that runs parallel to the Parkway.  You will be able to turn right at a variety of stops that will bring you back out to "The Parkway."  That should save some headache.
Gatlinburg, TN
The last stop on this ride is Gatlinburg.  Of course, with its location being right at the entrance to Great Smoky Mountains National Park, one might think there are not really too many viable choices other than to just deal with the traffic and bargain for some extra time.  Well, you would be pleasantly surprised to find out that you are wrong.  Gatlinburg has an awesome transit system that includes five separate trolleys.  Here's a link to the official Gatlinburg Trolley Routes Map.
If you choose to drive around the city during your Gatlinburg vacations, the city has added several new parking lots over the years that make it somewhat easier.  Personally, once you're there…I would get on the trolley or hoof it.  It's definitely worth it, as opposed to the frustrating hassle of driving around on the crowded main thoroughfare.
Of course, these are just a few helpful tips for driving in the Smokies.  Plan ahead, so you won't spend the majority of your Smoky Mountains vacation being stuck in traffic and frustrated.  Enjoying Gatlinburg vacations, along with experiencing the rest of the area's outstanding attractions, is much better without the traffic!