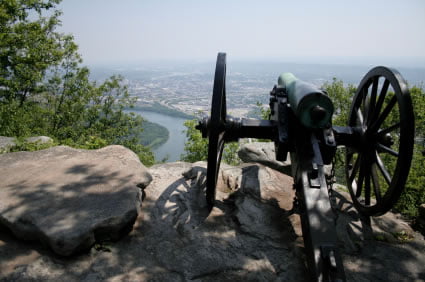 Roughly two hours southwest of Gatlinburg, near Chattanooga, Tennessee, is one of America's most unique tourist destinations. Perched high above the valley floor, on a plateau surrounded by sheer cliffs, is a landmark of both natural and historical significance. Welcome to Lookout Mountain, home of world famous attractions destined to be at the top of your East Tennessee to-do list.
The Incline
The first stop on your Lookout Mountain day trip might be a ride along "America's Most Amazing Mile." Since 1895 The Incline Railway has been trolleying passengers from the foot of the mountain to its summit. This National Historic Engineering Landmark has a dramatic 72.7% grade near the top, which makes it the steepest railway in the world. Additionally, the views afforded to passengers are in a word: breathtaking!
Rock City
Atop Lookout Mountain (roughly 3 miles from The Incline) are the awesome rock formations and botanical gardens of Rock City. Since the early 19th century sightseers have come here to explore the naturally occurring "streets and avenues" that earned this landmark its nickname.
In the 1920s, Frieda Carter decided she would plant the mother-of-all rock gardens here in Rock City. It was Frieda's husband, however, who conceived of turning this into a must-see tourist attraction. Garnet Carter's famous "See Rock City" advertising campaign beckoned visitors from as far away as Michigan and Texas. You, too, will want visit here to enjoy the 4,100 foot walking trail,  the ancient and massive rock formations, and the panoramic view of 7 states.
Ruby Falls
Hidden within the caves of Lookout Mountain is a waterfall unlike any other. Every minute hundreds of gallons of water thunder down a 145 foot drop to splash into a  pool below. This is Ruby Falls, America's highest and deepest underground waterfall.  Discovered over seven decades ago by  a group of excavators, the falls have become a national treasure. While here you can enjoy a walking tour of the caverns that house the falls and learn about the amazing history and geology of this natural wonder.
If you've decided to vacation here in East Tennessee, why not take a day out of your Gatlinburg holiday to visit one of America's most dynamic landmarks. This easy day trip is both family-friendly and educational. From the amazing geology to its storied history (including the  most romantically named battle of the Civil War: The Battle Above the Clouds), Lookout Mountain offers fun and excitement for everyone.